FINISHED: Maintenance of all bwCloud operating sites on Tuesday the 18.02.2020
Created: 23.01.2020 gegen 15 Uhr | Author:
Janne Chr. Schulz
| Tags: News, bwCloud, Website, General, 2020, OpenStack, Maintenance|
Quicklink
[UPDATE 19.02.2020 - 18:00 Uhr]
The maintenance was completed and all open tickets were successfully closed.
---
[UPDATE 19.02.2020 - 8:49 Uhr]
Apparently, some users do not "find" their stopped virtual machines immediately when they log in through the portal. Please make sure that you
a) have selected the correct project and
b) have selected the correct region.
The following screenshot illustrates how the region can be selected: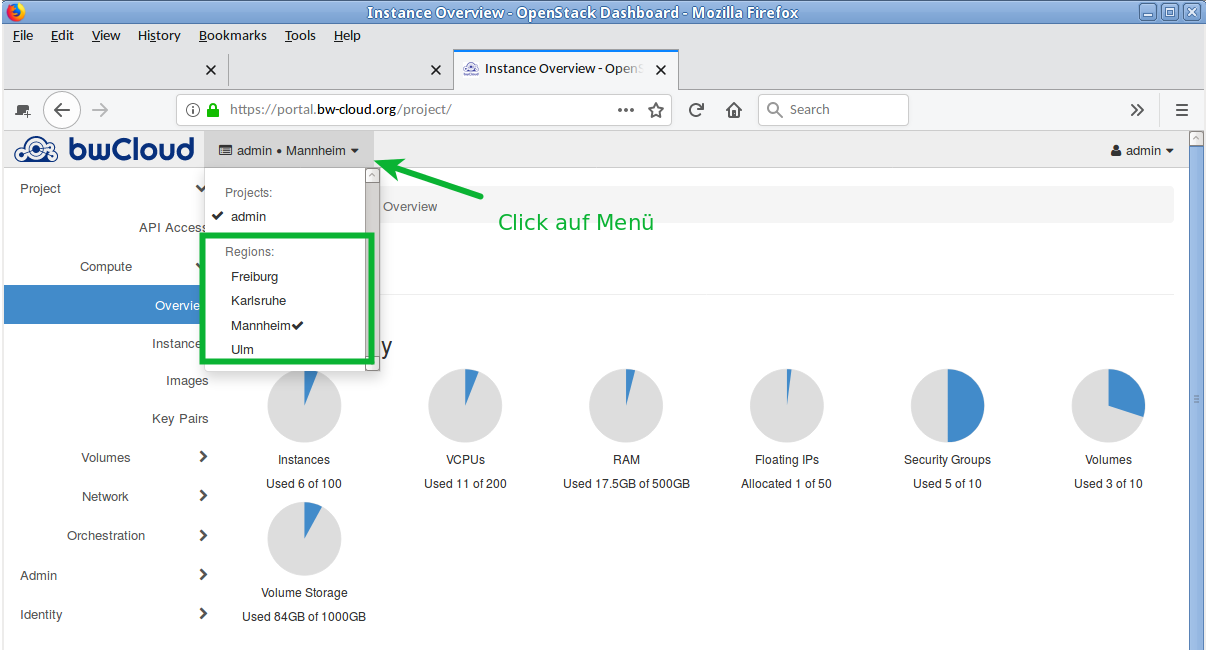 See also FAQ: Regions
---
[UPDATE 18.02.2020 - 19:00 Uhr]
The maintenance was successfully completed. All systems have been updated and are ready for use again. The stopped virtual machines can now be restarted.
If problems occur during the boot process, please write us a ticket stating
Project ID
Instance UUID
Region in which the instance runs (or should run).
We would like to thank the users for their patience and hope that all stopped instances and resources can be started again cleanly.
---
On Tuesday 18.02.2020 all bwCloud operating sites will be maintained. Temporarily affected are all users of the bwCloud infrastructure.
Q: What exactly is being done?
A "major maintenance" of the operating sites is planned, i.e. the operating systems of the nodes will be brought up to date, new software packages will be installed and the OpenStack release will be updated to version "T".
No user data is lost or deleted during this maintenance. There will only be a short time window during which a) no login via dashboard to the bwCloud environment is possible and b) the instances are shut down.
Q: Are running instances / virtual machines affected?
Yes: All instances are shut down in a controlled manner shortly before maintenance (if not already done). In this way a data loss is avoided.
For sensitive instances / virtual machines we recommend all users to make a backup of the data.
Q: Do the instances get new / other IDs / addresses?
NO: After the restart the instances get exactly the same parameters assigned as before: same IP address(es), same UUID, same hostname. Nothing changes here.
The measures in detail
All running instances are shut down
The compute nodes are patched and the operating system is updated
The API nodes are patched and the operating system is brought up to date
The OpenStack components are updated to the latest version
All servers and services are restarted
Since we have to shut down the central authentication service "Keystone" for a short time for this process, no logins via dashboard are possible during this measure.
Please note: The instances will not automatically reboot. Users have to log in after the maintenance is finished and start the desired instances manually.
Q: Who is affected?
All users are temporarily unable to log in via dashboard
Q: How long does it take?
We plan to carry out and complete the measures within the day. We recommend a regular visit to our website, where we will report on our progress.
Q: Where can I get status information?
We offer several sources of information about minor maintenance:
First source for status information is our website: Check regularly under Quicklink
As soon as the maintenance has been carried out and completed, this will also be posted here on our website